Home
> UV kitchen cabinet
Home

> UV kitchen cabinet
JISHENG UV Kitchen Cabinet Supplier
ABOUT US
Our company is the China leading high gloss UV plywood kitchen cabinet manufacturer. UV kitchen cabinet is one of our series products, and we have 190-meter UV production line, which is dust-free and Fully automated. And it is finished in one step to avoid occurring different color and defects by manual handling. Our UV kitchen cabinet can be custom, such as the size and style and so on, we can custom all that for you. And there are all kinds of colors and materials can be chose.
UV KITCHEN CABINET
On the UV cabinet surface, we deal with the transparent and eco-friendly UV lacquer, and then it was made of environmentally friendly materials, which was made by strong ultraviolet light-cured.
DETAILS
Our UV kitchen cabinet can be made by using mdf, plywood, particle board
,
melamine and others. The uv kitchen surface was dealing with UV lacquer that was automatically roller and curtain coating on the surface of kitchen cabinet plate by machines. And prompt initiator decomposition, produce free radicals, causing resin reaction, and instantly cured film under ultraviolet rays. UV kitchen cabinets share strong visual impact, it is beautiful, stylish and wear-resistant. The surface is very smooth, it is easy to clean and high strength (3H or more). UV kitchen cabinet lacquer doors will gradually become the mainstream market.
ADVANTAGES
1. Moisture-proof; acid and alkali resistant
2. Scratch and corrosion resistant
3.
Easy to clean and assemble
4. High surface smoothness
5.
Environmental friendly
6. High surface hardness
...
UV kitchen cabinet
Carcass
16/18mm Plywood

Door Base Material

18mm Plywood

Edge Banding

UV plywood
Colors

More over Hundreds of colors to choose

Door Surface Finish

UV lacquer door panel

UV high gloss panel

UV color painting panel

Countertop

Acrylic stone ,Quartz stone, Natural stone

Kitchen Size

Standard Size:

Base cabinet(H=750mm,D=560mm)

Wall cabinet(H=700/800mm,D=330mm)

Non-standard:custom-made as per buyer's requirements

UV Plywood
Product Name

High gloss uv plywood

Description

UV plywood panel

Kitchen Size


1220*2440mm(can be customized according your requirement)

Thickness

Standard is 18mm,19mm(12mm,15mm,16mm availableupon request)

Brand name

jisheng

Usage

Kitchen furniture,kitchen cabinets,kitchen cabinet

Doors,wardrobes,sliding doors,wardrobe doors,ect.

Indoor furniture,shoes cabinets,TV cabinet,bathroom cabinet,ect.

Indoor decoration

Grade

First-Class

Core

Plywood available

Color

Many colors to choose

Emission standards

E0,E1

Density

≥850kg/m³

Layer bonding strengh

≥1Mpa
UV Production Line: total 190-meter long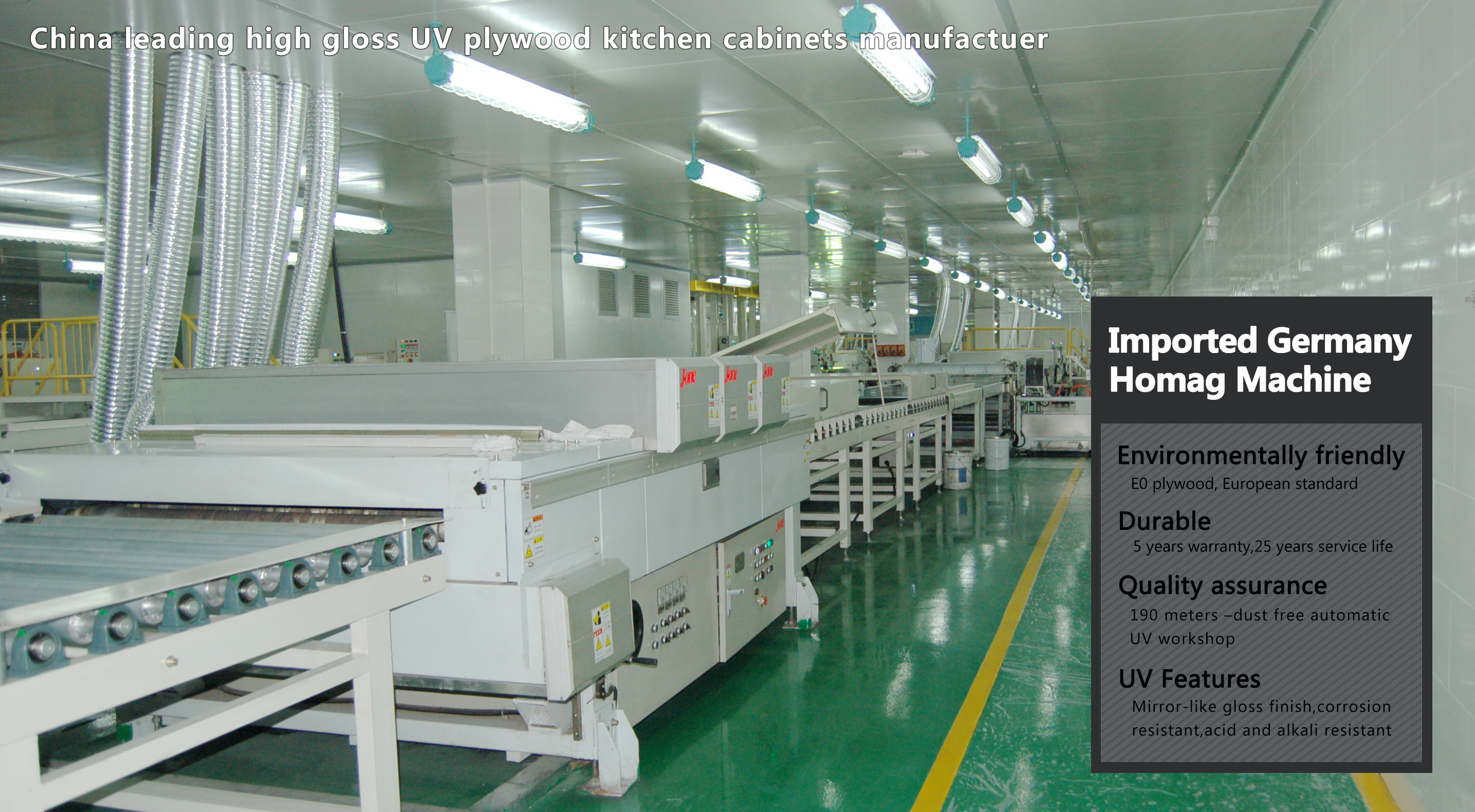 Certifications